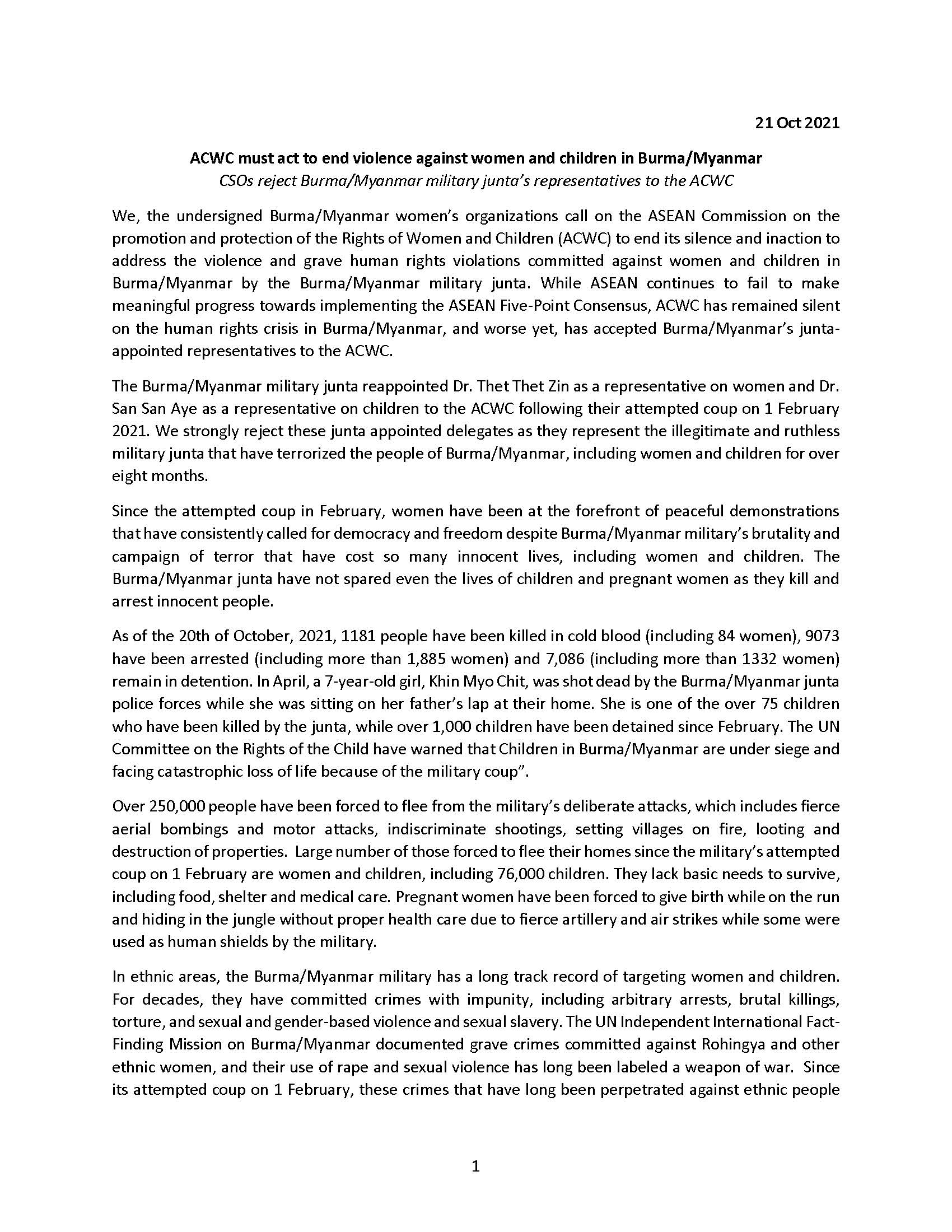 2

1

O

c

t

2

021
ACWC must act to end violence against women and children in Burma/Myanmar
CSOs reject Burma/Myanmar military junta's representatives to the ACWC
We, the undersigned Burma/Myanmar women's organizations call on the ASEAN Commission on the promotion and protection of the Rights of Women and Children (ACWC) to end its silence and inaction to address the violence and grave human rights violations committed against women and children in Burma/Myanmar by the Burma/Myanmar military junta. While ASEAN continues to fail to make meaningful progress towards implementing the ASEAN Five-Point Consensus, ACWC has remained silent on the human rights crisis in Burma/Myanmar, and worse yet, has accepted Burma/Myanmar's junta- appointed representatives to the ACWC.
The Burma/Myanmar military junta reappointed Dr. Thet Thet Zin as a representative on women and Dr. San San Aye as a representative on children to the ACWC following their attempted coup on 1 February 2021. We strongly reject these junta appointed delegates as they represent the illegitimate and ruthless military junta that have terrorized the people of Burma/Myanmar, including women and children for over eight months.
Since the attempted coup in February, women have been at the forefront of peaceful demonstrations that have consistently called for democracy and freedom despite Burma/Myanmar military's brutality and campaign of terror that have cost so many innocent lives, including women and children. The Burma/Myanmar junta have not spared even the lives of children and pregnant women as they kill and arrest innocent people.
As of the 20th of October, 2021, 1181 people have been killed in cold blood (including 84 women), 9073 have been arrested (including more than 1,885 women) and 7,086 (including more than 1332 women) remain in detention. In April, a 7-year-old girl, Khin Myo Chit, was shot dead by the Burma/Myanmar junta police forces while she was sitting on her father's lap at their home. She is one of the over 75 children who have been killed by the junta, while over 1,000 children have been detained since February. The UN Committee on the Rights of the Child have warned that Children in Burma/Myanmar are under siege and facing catastrophic loss of life because of the military coup".
Over 250,000 people have been forced to flee from the military's deliberate attacks, which includes fierce aerial bombings and motor attacks, indiscriminate shootings, setting villages on fire, looting and destruction of properties. Large number of those forced to flee their homes since the military's attempted coup on 1 February are women and children, including 76,000 children. They lack basic needs to survive, including food, shelter and medical care. Pregnant women have been forced to give birth while on the run and hiding in the jungle without proper health care due to fierce artillery and air strikes while some were used as human shields by the military.
In ethnic areas, the Burma/Myanmar military has a long track record of targeting women and children. For decades, they have committed crimes with impunity, including arbitrary arrests, brutal killings, torture, and sexual and gender-based violence and sexual slavery. The UN Independent International Fact- Finding Mission on Burma/Myanmar documented grave crimes committed against Rohingya and other ethnic women, and their use of rape and sexual violence has long been labeled a weapon of war. Since its attempted coup on 1 February, these crimes that have long been perpetrated against ethnic people
have spread across the country. Rape and sexual violence cases are being reported in areas where people's defiance against the military junta are strong. Sexual assault and sexual violence against women in detention have also been reported.
In the face of such violence committed against women and children by the Burma/Myanmar military junta, ACWC's silence and inaction has only further emboldened the junta to continue to act with total impunity. Worse yet, by accepting junta-appointed delegates as representatives to the ACWC, the body risks complicity in legitimizing the military junta and its grave human rights violations and atrocity crimes including rape and sexual and gender-based violence against women and girls – contrary to the purpose of the body. Their presence undermines ACWC's credibility and ability to act decisively in face of grave human rights violations and violence against women and children.
We reject the junta-appointed representatives to ACWC and call on the commission to break the silence and "to advocate on behalf of women and children" of Burma/Myanmar as mandated by the ACWC's TOR and address the grave violations and violence committed by the Burma/Myanmar military junta.
Six-month has passed since the Five-Point Consensus were reached between ASEAN leaders and the Burma/Myanmar junta's leader, Senior General Min Aung Hlaing. Yet the junta has demonstrated total disregard for the agreement as they continue to commit war crimes and crimes against humanity with total impunity. Given its refusal to implement the Five-Point Consensus and ASEAN Foreign Ministers' decision to exclude the junta from the upcoming ASEAN Summit, ACWS must ensure that the military junta and its appointees are not offered a seat at the ACWC and other ASEAN related events, conferences and meetings.
The ASEAN leaders, the ACWC and all other ASEAN bodies and mechanisms must stop "business as usual" in response to the crisis in Burma/Myanmar and stop providing legitimacy and recognition to the military junta and its representatives. The actions of the junta threaten regional stability and peace with particular implications for women and children in the region. It is vital that ASEAN and the ACWC find themselves on the right side of history by making concerted efforts and taking immediate and concrete actions to address the deepening human rights crisis in Burma/Myanmar. We call on the ACWC to reject the military appointees as they are not the representatives of the people of Burma/Myanmar. We also call on the Commission to convene a special session to address the Burma/Myanmar crisis with us and larger Burma/Myanmar civil society organizations without a representative or the presence of the military junta.