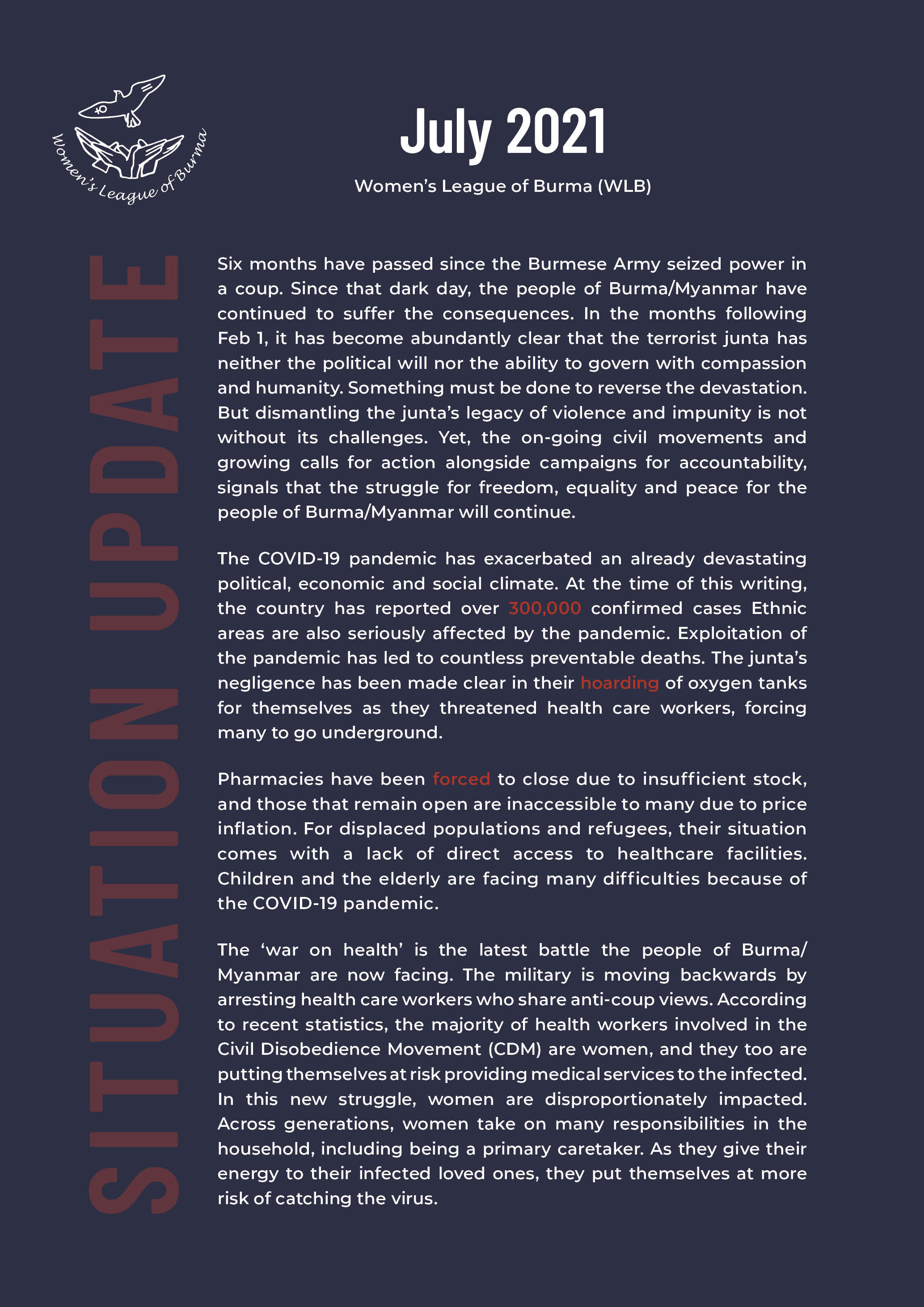 Six months have passed since the Burmese Army seized power in a coup. Since that dark day, the people of Burma/Myanmar have continued to suffer the consequences. In the months following Feb 1, it has become abundantly clear that the terrorist junta has neither the political will nor the ability to govern with compassion and humanity. Something must be done to reverse the devastation. But dismantling the junta's legacy of violence and impunity is not without its challenges. Yet, the on-going civil movements and growing calls for action alongside campaigns for accountability, signals that the struggle for freedom, equality and peace for the people of Burma/Myanmar will continue.
The COVID-19 pandemic has exacerbated an already devastating political, economic and social climate. At the time of this writing, the country has reported over 300,000 confirmed cases Ethnic areas are also seriously affected by the pandemic. Exploitation of the pandemic has led to countless preventable deaths. The junta's negligence has been made clear in their hoarding of oxygen tanks for themselves as they threatened health care workers, forcing many to go underground.
Pharmacies have been forced to close due to insufficient stock, and those that remain open are inaccessible to many due to price inflation. For displaced populations and refugees, their situation comes with a lack of direct access to healthcare facilities. Children and the elderly are facing many difficulties because of the COVID-19 pandemic.
The 'war on health' is the latest battle the people of Burma/Myanmar are now facing. The military is moving backwards by arresting health care workers who share anti-coup views. According to recent statistics, the majority of health workers involved in the Civil Disobedience Movement (CDM) are women, and they too are putting themselves at risk providing medical services to the infected. In this new struggle, women are disproportionately impacted. Across generations, women take on many responsibilities in the household, including being a primary caretaker. As they give their energy to their infected loved ones, they put themselves at more risk of catching the virus.
Meanwhile, unlawful arrests and persecution of pro-democracy activists continues. According to the Assistance Association for Political Prisoners, 1,084 women have been arrested and 65 killed since Feb 1. Another 100 youth have been killed by the junta, including 75 children. Additionally, 1,000 young people between the ages of 10 and 19 have been detained. Of those arrested, 65 have been sentenced to death through military tribunals, including four women. Burma/Myanmar has not evoked the death penalty since 1988. These sentences are excruciatingly punitive and they lack legitimacy. Peaceful protest is not a crime, and yet under the junta's control, those with different views are persecuted.