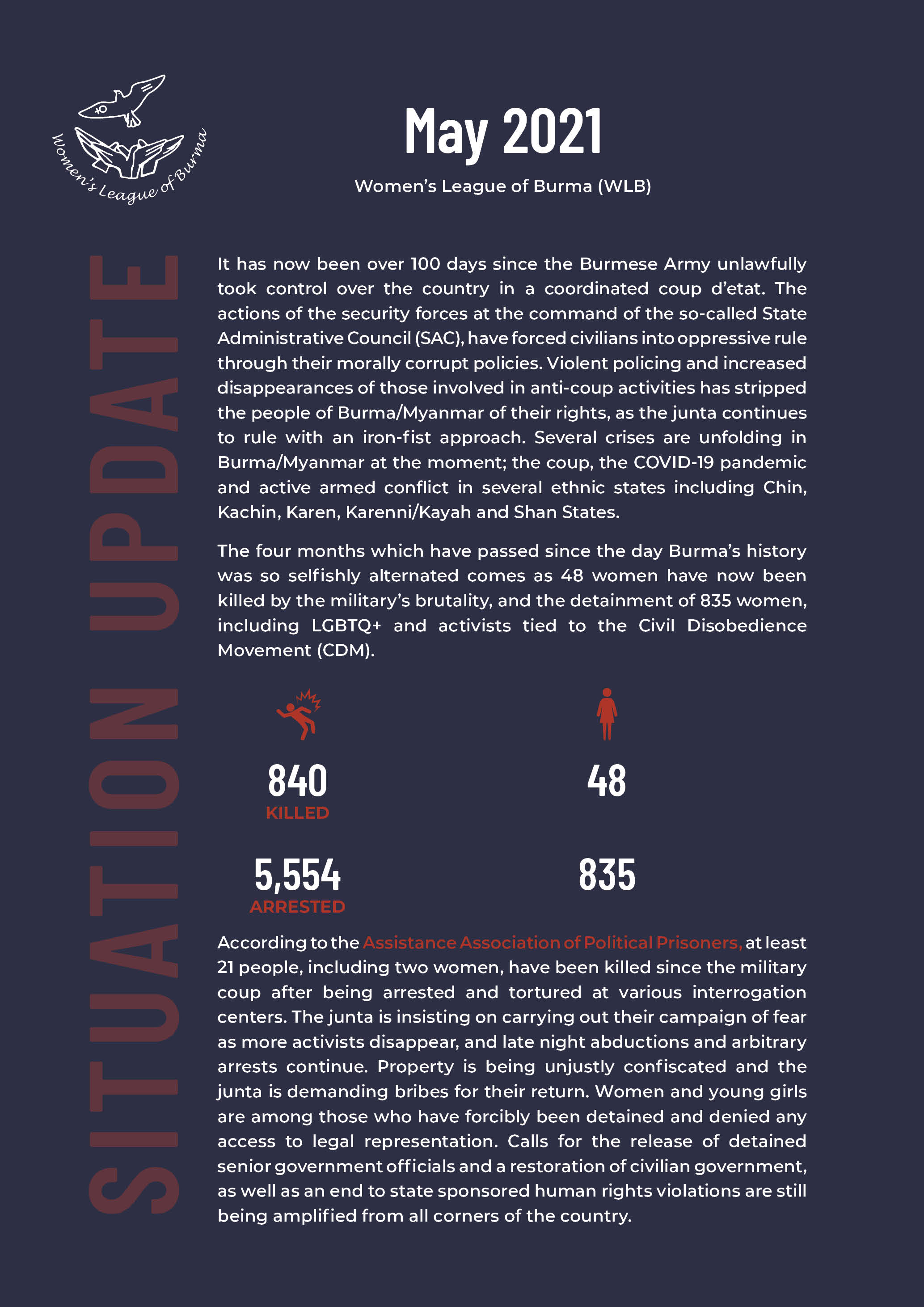 It has now been over 100 days since the Burmese Army unlawfully took control over the country in a coordinated coup d'etat. The actions of the security forces at the command of the so-called State Administrative Council (SAC), have forced civilians into oppressive rule through their morally corrupt policies. Violent policing and increased disappearances of those involved in anti-coup activities has stripped the people of Burma/Myanmar of their rights, as the junta continues to rule with an iron-fist approach. Several crises are unfolding in Burma/Myanmar at the moment; the coup, the COVID-19 pandemic and active armed conflict in several ethnic states including Chin, Kachin, Karen, Karenni/Kayah and Shan States.
The four months which have passed since the day Burma's history was so selfishly alternated comes as 48 women have now been killed by the military's brutality, and the detainment of 835 women, including LGBTQ+ and activists tied to the Civil Disobedience Movement (CDM). 
According to the Assistance Association of Political Prisoners, at least 21 people, including two women, have been killed since the military coup after being arrested and tortured at various interrogation centers. The junta is insisting on carrying out their campaign of fear as more activists disappear, and late night abductions and arbitrary arrests continue. Property is being unjustly confiscated and the junta is demanding bribes for their return. Women and young girls are among those who have forcibly been detained and denied any access to legal representation. Calls for the release of detained senior government officials and a restoration of civilian government, as well as an end to state sponsored human rights violations are still being amplified from all corners of the country.