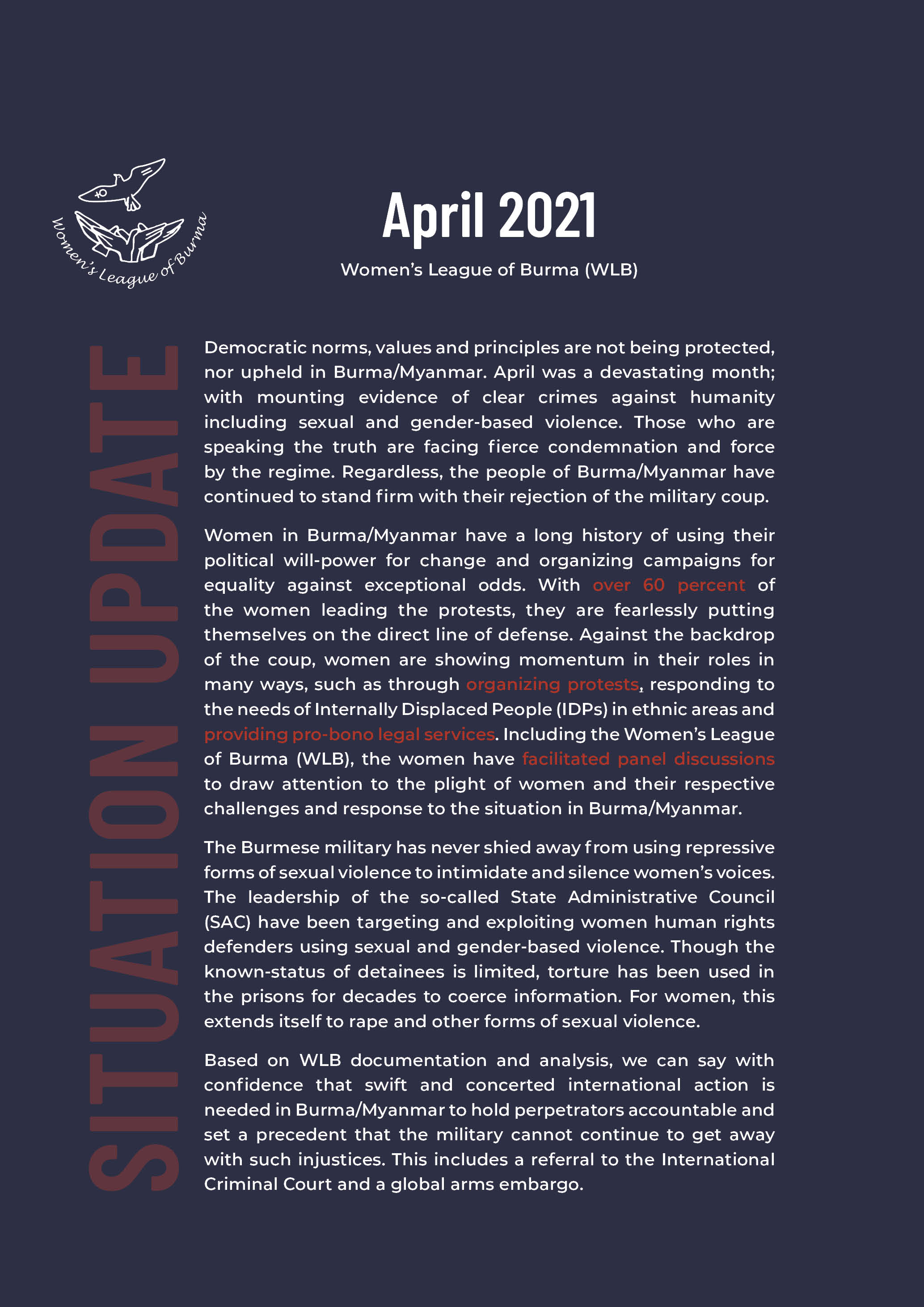 Democratic norms, values and principles are not being protected, nor upheld in Burma/Myanmar. April was a devastating month; with mounting evidence of clear crimes against humanity including sexual and gender-based violence. Those who are speaking the truth are facing fierce condemnation and force by the regime. Regardless, the people of Burma/Myanmar have continued to stand firm with their rejection of the military coup.

Women in Burma/Myanmar have a long history of using their political will-power for change and organizing campaigns for equality against exceptional odds. With over 60 percent of the women leading the protests, they are fearlessly putting themselves on the direct line of defense. Against the backdrop of the coup, women are showing momentum in their roles in many ways, such as through organizing protests, responding to the needs of Internally Displaced People (IDPs) in ethnic areas and providing pro-bono legal services. Including the Women's League of Burma (WLB), the women have facilitated panel discussions to draw attention to the plight of women and their respective challenges and response to the situation in Burma/Myanmar.

The Burmese military has never shied away from using repressive forms of sexual violence to intimidate and silence women's voices. The leadership of the so-called State Administrative Council (SAC) have been targeting and exploiting women human rights defenders using sexual and gender-based violence. Though the known-status of detainees is limited, torture has been used in the prisons for decades to coerce information. For women, this extends itself to rape and other forms of sexual violence.

Based on WLB documentation and analysis, we can say with confidence that swift and concerted international action is needed in Burma/Myanmar to hold perpetrators accountable and set a precedent that the military cannot continue to get away with such injustices. This includes a referral to the International Criminal Court and a global arms embargo.